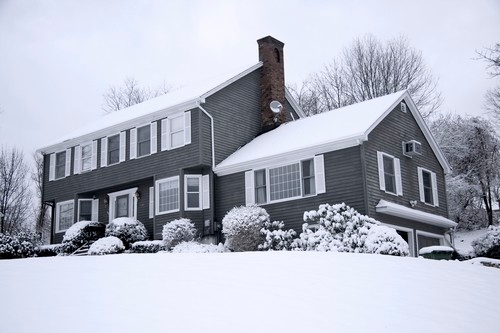 Roof Leaking After Snow? C&C Roofing Can Help
Roof Repair in Elkins Park
Winter can be tough on your property. After a heavy December snowfall, your roof could be damaged and begin to leak. At C&C Family Roofing, our professional team of contractors can provide expert roof repair in Elkins Park if your roof has begun to leak after winter snow.
The Effects of Winter Weather
One of the primary causes of winter roof leaks is the formation of an ice dam. If your roof was poorly insulated, installed, or lacks adequate ventilation, warm air coming from your attic can cause condensation on your roof to melt. This ice will accumulate in your gutters and create ice dams, large chunks of ice that cause damage to shingles, tiles, and other roof components. As ice dams melt during the day and freeze again at night, additional water that has accumulated on your roof will back up under shingles and tiles, causing leaks.
The best course of action to prevent early spring roof leaks is to remove ice and snow from your roof with a long-handled roof rake. While this is a short-term fix, the only way to rid yourself of an ice dam permanently is to call in professionals to deal with the issue. If you attempt to chisel or hammer away at the ice yourself, not only is it dangerous to you, but you could do damage to your roof that necessitates additional repair as the snow melts and you see the consequences of your actions.
Adding insulation to your roof is also an excellent way to offset and prevent the formation of ice dams. Make sure that your roof is adequately insulated and ventilated to prevent the buildup of condensation.
An Ounce Of Prevention
With any part of your home, you'll find that your roof needs attention and care to prevent disrepair, damage, and deterioration that can result in interior and exterior damage to your home. Here are some other reasons to consider calling a professional roofing company to perform a comprehensive inspection before the next winter season:
1. You'll be able to protect your warranty
Need roof repairs may be covered under a warranty, provided that you've had regular roof inspections to protect your warranty coverage. Failing to adhere to a regular maintenance schedule could potentially cost you thousands of dollars in repairs if you default on coverage. Schedule regular maintenance and inspection to avoid costly repairs.
2. Your roof naturally breaks down over time
Even the roof that is well kept will break down and deteriorate over time. Hot sun, heavy rain, and blasting winds all due their due diligence when tearing down your roof and its components. A regular roof inspection from a qualified professional will help you to troubleshoot areas of weakness and provide you with solutions for long-term fortification and protection.
3. You'll be taking a proactive approach to protecting your home
Other structural damage can be present long before a leak makes its way into your home. Getting a regular inspection and roof repair in Elkins Park will ensure that you have done all you can to protect your most valuable asset–your home.
Contact Us Today
Our professionals at C&C Family Roofing know just how important protecting your home is to you and your loved ones. Whether you find yourself in need of inspection or roof repair in Elkins Park, we are ready to provide you with solutions and craftsmanship that can extend the life of your roof. Contact us today for a free quote.